At his Exhibition 1998
 Support by Embassy of Ecuador

Click here !!
for Message of Koichi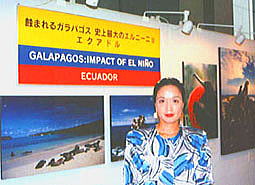 Back to Home
Photo by Koichi Fujiwara
Recently I visited the Photo Exhibition by the Embassy of Ecuador,
because Mr. Attache;Rogrigo Paez, whom I got to know when I gave
my CD, invited me to that event.
First, I thought it would be an event which would display beautiful
pictures of the Galapagos Islands. So I eagerly attended.
But there were no peaceful scenes of Shangri-La for the animals.
The photos were filled with the powerless, pitiful and grievous cries
of the animals and birds that were panting, suffering and on the brink
of destruction because of El Nino.
A disaster that can be said was caused by human activity.
The person sending this strong message appealing to public opinion,
is Koichi Fujiwara: He is a photographer and also a science writer
I was very much impressed by his opinion,
and I wanted to tell this present situation to as many people
as possible. So I have introduced Koichi Fujiwara in my HP. 1998/W
Koichi Fujiwara : Photographer & Science Writer
Born in Akita. Japan.
Keen to learn about the sea, he studied at New South Wales University
in Australia and then at James Cook University Graduate School,
doing research at the Lizard Island Research Station
on the Great Barrier Reef.
He devoted his life to capturing the beauty of wildlife on film,
and travels widely to shoot photographs that
will stimulate the viewer's imagination.
His publications include the photo collection
[Galapagos] (Data House),and
the postcard book[Edge of the Ice] and [Whistling Blue] (PIE Books).
He's a member of the Australian Institute of Professional Photographers.